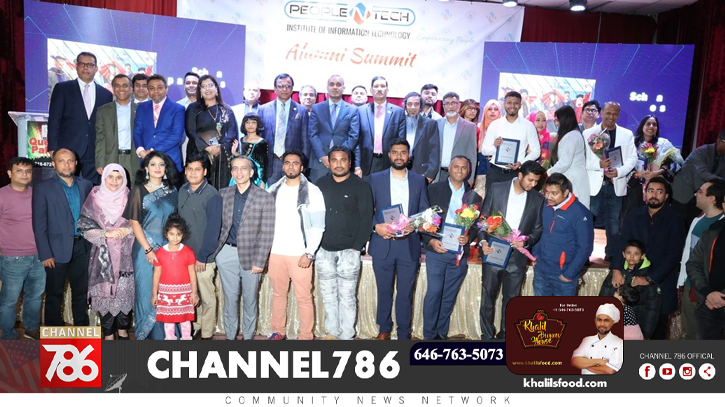 The evening was for the alumnus of PeopleNTech. They all came to tell their stories of moving forward and success. They narrated how a four-month training program has changed their lives. They said, not only their own, but their family's landscape has changed. And above all, they now can build a worthy future generation. Each of them is now a skilled IT professional in the mainstream of the United States. Some of them are project managers, some are project leads. Some are now trainers and teachers themselves.
The event was PeopleNTech's Alumni Summit 2022. These alums gathered at a party hall in Queens, New York. Abubokor Hanip, founder and CEO of PeopleNTech and now chancellor and chairman of Washington University of Science and Technology-WUST, was in the center of the event. Farhana Hanip, President of PeopleNTech and CFO of WUST was present. And they were surrounded by all the officials of the company's New York, Virginia, New Jersey offices.

The main attraction of the event was the alums whose stories mesmerized everyone present.
New York dignitaries were invited to it. Consul General of Bangladesh in New York Dr. Monirul Islam was present as the chief guest. Syed Ashikur Rahman, CEO of RTV in Bangladesh was present as the special guest. Heads of various media outlets were present.
Successful alums told their stories and each of these stories was unique. Just as they have shared how important the role of PeopleNTech was in building their lives.
They refer to PeopleNTech's training as life changing. And everyone repeatedly mentioned about Engineer Abubokor Hanip as the architect of their fate change.
They were talking about the trainers who trained them in the classes. They were talking about Farhana Hanip, president of PeopleNTech who has been working relentlessly to take the organization onward with all efforts.
Engineer Abubokor Hanip also shared his own story to all. He told how he established himself in this IT sector after passing a struggling time when he came to study in this country.
The story of Abubokor Hanip is an inspiration for everyone, speakers said.
Abubokor Hanip told that he left a lucrative job with reputed company in handsome salary to take efforts so that people could change their lives in the way he has changed his own. And keeping that motto in mind, he founded PeopleNTech.
Hanip said that some 18 years ago in 2004 he took a vow to bring the people of the Bangladeshi community out of the life of struggle in this country and give them a beautiful life. And thus, PeopleNTech started. Initially, there was only one student. But after that student got a job six-digit job in the mainstream, more students started to join. Since then, there was no looking back. Gradually it continued to grow.